Among the major issues addressed by the NUWW the issue of a human right as it is a critical concern in all the poor communities of urban and rural areas. In a patriarchal culture that accords subordinate status to women, the position of the girl child is indeed vulnerable. In case of financial difficulty, it is the girl child whose education is sacrificed in order to manage the household and take care of the younger children at home. In conditions of child labour, girl children are often subject to abuse and forced to take on additional burdens of domestic work by the employers.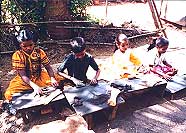 In the case of the Devadasi community, the fate of the girl child is determined at an age when she is powerless to alter the decisions being made about her life. The right to life continues to be denied to girl children in many areas through the practice of female infanticide. The dowry system deeply rooted in the culture and customs of most communities in India is a cause of harassment for most women. This has led to a situation where the girl child is treated as a guest in her own home.

WWF has addressed this issue mainly through training to bring about attitudinal change towards improving the status of the girl child. Members are sensitised foremost on the equality in treatment of their own male and female children. The training includes conscientisation through in-house training, participatory workshops and public forum, on concerns such as food sharing within the home; need for boys and girls to share household's chores; equal educational opportunity for girls and boys; training and employment for girls for financial independence in order to avoid early marriage and motherhood. Area specific vocational training for adolescent girls run by WWF, equip them with skills that are economically productive.

Child Labour Rehabilitation Centres

Extreme poverty has led to the prevalence of child labour in most area where the WWF has its branches. The children are employed under inhuman working conditions, often bonded to the employer for an advance of loan especially in the cases of beedi rollers, agarbathi workers and silk weavers. Women of the forum in each area, have tried to find workable solutions to tackle this problem without jeopardising the survival of the families.

They have strived to relieve the children from bonded contract labour by extending credit to redeem the children from their employers. Provision of production credit to the poor women has strengthened adult employment there by removing hunger and starvation. This has eased the pressure on children to earn for their families. At the same time they have taken social action against employers who abuse the children who work under them. Night schools established by the Union for working children provide basic education along with the much needed nutritious meal in the evenings.